The Ultimate Guide to Social Media Campaigns
by Jin on Sep 27, 2022 8:30:00 AM
Contents
Social Media Marketing Is Effective
What is Social Media Marketing Campaign
Setting Social Media Marketing Campaign Objectives
Social Media Campaign Cases
How To Run a Social Media Marketing Campaign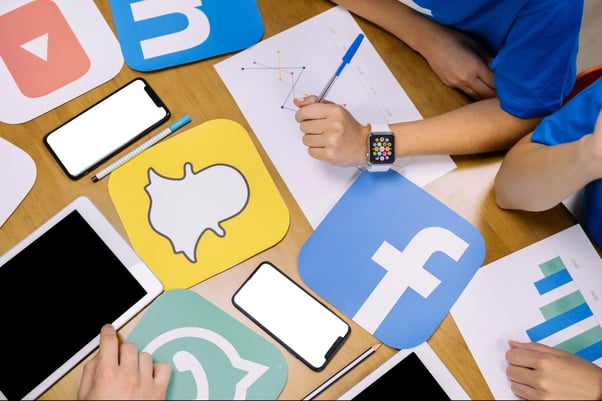 There are 2 billion users on Facebook, 1 billion on Instagram, and 355 million on Twitter every month worldwide. Social Media is used for a variety of purposes including business and network purposes, to communicate with people, and marketers are aware of it. With consumers on many platforms, marketers are realizing the importance of targeting customers through social media. In fact, investment in social media advertising is growing worldwide.
1. Social Media Marketing is Effective
Advertising using social media is an effective way to reach the audience at a low cost. That's why social media campaigns are a major marketing skill for most companies. With the growing number of social platform users, it is hard to imagine that business will last without social media. Using social media makes it relatively easy to reach the target audience and connect with current and prospective customers. It can also create brand loyalty, increase website traffic, and generate consistent sales. Therefore, Social media marketing is not just a trend, but a powerful way to reach customers around the world.
2. What is Social Media Marketing Campaign
Social media marketing campaigns are an effort to effectively communicate information about brands, products, and services using at least one or more social media platforms. These campaigns are strategic and focused, can measure the outcome of the campaign, and can also influence social media followers to feel and do particular actions.
3. Setting Social Media Marketing Campaign Objectives
Specific SMART Goals must be set when planning social media marketing campaigns. The SMART goal is to ensure that the marketing campaign's goals are specific, measurable, achievable, relevant, and time bound. It is important to make a clear decision on what you want to achieve before proceeding with the campaign. It is also helpful to refer to relevant social media marketing campaign examples to provide various content and improve understanding of campaign goals.
4. Social Media Campaign Cases
Increasing Brand Awareness
Companies can increase brand awareness by posting campaigns through various social media platforms. It can also apply specific hashtags to expand reach, and provide incentives for sharing content or friend tagging to existing followers. Raising brand awareness through social media does not take much time. In fact, 91% of marketers say they have experienced a noticeable increase in brand awareness just by spending hours a week on social media. Once you have planned a campaign, you need to devise when, where, and what content is effective.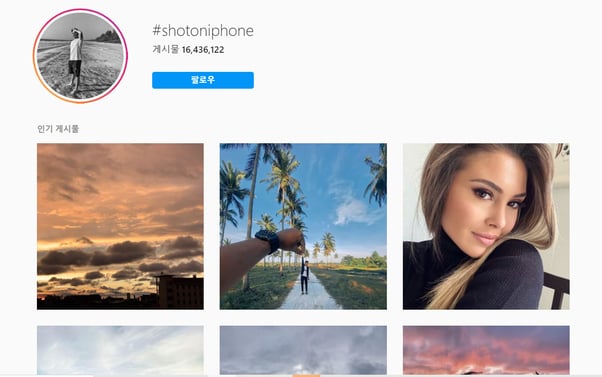 Shot On iPhone (Image by Instagram)
A good example of using social media marketing to increase brand awareness is Apple's "Shot On iPhone" campaign. Using Apple's iPhone camera, more than tens of millions of users could take pictures of people with professional cameras. Taking great pictures has become increasingly important for social media users. Especially for users of photo-oriented platforms like Instagram, it has become an essential factor. Apple has launched a "Shot On iPhone" campaign featuring iPhone photos taken by consumers with ideas that fit the situation. iPhone users took pictures with their smartphones, posted them on social media such as Instagram, and posted campaign hashtags. So, #shotoniphone has been tagged with 16.43 million posts so far. Apple has launched a campaign to share the photos selected on its Instagram page with 24.09 million followers and post the participant's photos on the billboard. Apple's social media marketing campaign played an important role in raising brand awareness by sharing photos of participants with followers through Instagram pages and hashtags. It was Apple who started the campaign, but it was iPhone users who actively participated. Through this campaign, the company was able to raise brand awareness and successfully promoted iPhone cameras.
Making a Relationship with Audience
Having a relationship with the audience is important in all kinds of marketing. Effective marketing strategies have never been more important because of the increasing number of distractions and the growing impatience among people. Social media has the advantage of being able to connect with potential customers around the world. Therefore, social media marketing campaigns should go beyond the superficial level of following, commenting, and "likes" to create deeper relationships.
Coca Cola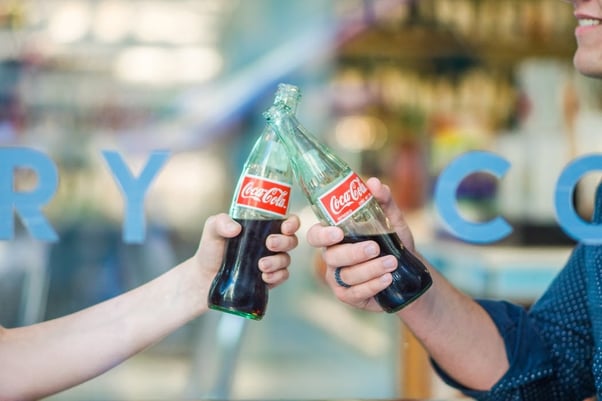 Coca-Cola's 'Share a Coke' social media campaign is a successful example of how it made the audience and business have a deep relationship. The company provided a personalized purchasing experience for customers by putting people's names on Coca-Cola labels. The Coca Cola buyers were able to see the name on the label, such as themselves or their family, friends, or co-workers, and made them relevant to the Coca-Cola bottle. Some bottles are designed so that people can take off stickers with their names and use them as name tags or give them to others. Coca-Cola has also found creative ways to relate to everyone through its campaign, including attaching labels with uncommon names, and allowing them to write their names on labels for $5 on the company's website. Coca-Cola also promoted the hashtag #shareacoke, and social media users shared photos and videos with their followers. The campaign went viral and the #shareacoke hashtag was used in millions of Twitter and Instagram posts. And for customers who want to share Coca-Cola or post photos of their experiences, they put a link about campaign information on Coca-Cola's social profile. The Coke campaign made people feel interested in customized cola and made customers feel connected to the brand at a deeper level. As a result, millions of people bought coke and voluntarily shared photos, videos, and stories on social media.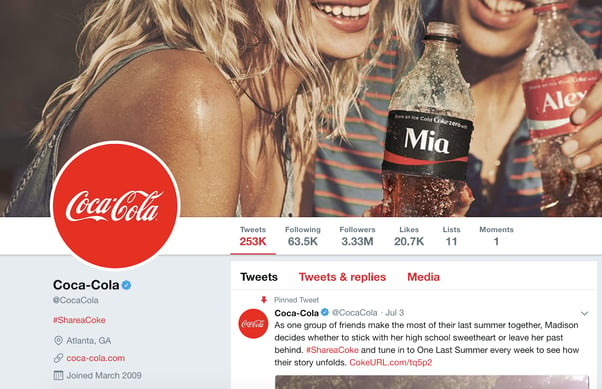 Coca-Cola Campaign (Image by Hubspot)
Increasing Website Traffic
Social media is a great way to increase website traffic. Adding a website link to your social media profile can help guide you to the site so that you can learn more about the company or specific products. Including a URL in a profile can help avoid confusion and make it easier for potential customers to visit the website, and the URL can link followers on social media to specific landing pages on the website. You can also increase your website's traffic by attaching links to the site as part of a natural conversation or organic posting. You can also add websites or landing page URLs to social media posts. Many news networks can increase website traffic by connecting to pages that cause customers to wonder or source their interests, such as attaching URLs to social media articles. Attaching links, especially with eye-catching images, videos, quotes, and more, effectively increase website traffic.
ABC News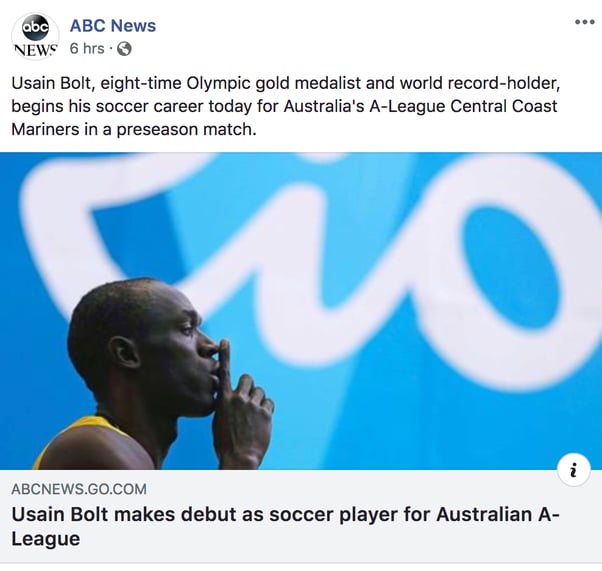 ABC News Campaign (Image by Hubspot)
Increase in Sales
Marketers of course want their customers to react with interest to their products or brands. This is because sales are made when companies do these activities effectively. Social media campaigns are most effective in attracting people's attention because of characteristics of social media that are easy to share, can utilize images, and easy to viralize.
Starbucks
The best example of this is Starbucks' Unicorn Frappuccino campaign. Starbucks is famous for making special 'Secret Menu' items, and many customers have left posts on Instagram or Twitter about their own secret menu. Starbucks took advantage of this to sell unicorn frappuccino. Starbucks has shared photos of Frappuccino on all social media accounts and raised interest in this drink, and has added the hashtag #unicornfrappuccino to share their experiences with the drinks. The campaign posted more than 180,000 posts on social media in just one week in April 2017, increasing same-store sales by 3% in the second quarter, and same store sales by 4% in March 2017.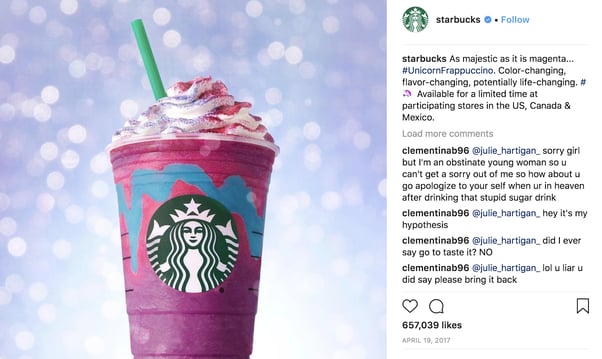 Starbucks Campaign (Image by Hubspot)
5. How To Run a Social Media Marketing Campaign
There are many ways to successfully carry out a social media marketing campaign. Campaign plans may vary depending on the industry, social media platform type, and campaign type. To run a social media marketing campaign, you need to focus on three steps: competitive analysis, strategy development, and content promotion.
1) Competitive Analysis
Competitive Analysis is important at the planning stage of a social media marketing campaign.
Do similar companies have successful social media accounts
Which company is conducting marketing campaigns?
Are marketing activities conducted through prizes, contests, and live videos?
What is the level of social post participation?
Through the process of answering these questions will also give you the idea to improve your understanding of the industry and open a special social media marketing campaign. If a company has one's own campaign styles as well as social media, then you need to conduct an in-depth investigation to ensure that you can carry out an effective campaign.
2) Strategic Development
The next step is to develop a strategy, and you need to analyze the target audience and appropriately appeal to them to set campaign goals.
Who is the audience to reach
How do you categorize the target audience
How do you want the campaign to affect your company and the audience?
How do you build a lasting relationship with the audience through the campaign?
Determining what content or message you want from the target audience is a top priority. Make sure you don't lose sight of who the target audience is during your social media marketing campaign. Then, how do you appeal to the target audience on social media?
Be Sensitive to the Latest Trends
We need to figure out what people like to see these days. For example, if Instagram stories and live streaming have become very popular recently, social media campaigns should reflect this trend.
Provide the Information
Sometimes, you need to be able to pause the audience and provide information that will catch their eyes. If you don't provide them with valuable information, you can't attract attention to posts or campaigns. Make them attractive so that the audience has no choice but to read the post.
Create Unique Visual Content
Create a campaign element that matches your brand. Peculiar and unique elements can make a brand stand out more and make it more preferred to its competitors. Whether it is Facebook or Instagram, we need to check if visual content is attractive and fun. It will be more effective if it is content that the audience hasn't experienced often.
3) Communication with Audience
84% of consumers expect companies to respond within 24 hours. If a follower leaves a question or comment, companies should respond to it. This helps build relationships with the audience, increasing brand loyalty, and improving reliability. Regardless of how many followers you have, you need to spend time answering audience questions and giving feedback by pressing "Like" in the comments. Through time to communicate with followers, you can provide them with a personalized experience, and these activities help followers be interested in the brand and continue their relationship.
4) Setting Content Outlines and Formats
We need to think about the purpose of holding a campaign to determine the content format. Examples of the purpose of a company's social media marketing campaign include:
Holidays
Special Occasions
Partnership with Other Companies
User-Created Content Promotion
Contest and Prizes
You also need to consider which platform and what type of content you should use. Instagram is appropriate if you use a lot of still pictures in your campaign, Facebook is appropriate if you want to share long videos that require live streaming, and Twitter is recommended if you want to share short information. Think about and choose what each platform is best for.
5) Result Management of Campaign Strategy
No matter what kind of campaign you run, you want to know if the campaign is successful. This requires a measurement item that can measure and monitor the results during the campaign. Typically, you use trackers such as Google Analytics or Hubspot's social monitoring and metric tracking tools. This allows specific data to see information such as the amount of traffic in the entire campaign, the number of new followers, the level of participation, changes in website traffic, and changes in sales.
6) Content Promotion
These are the steps to share and promote your content.
Try to Deliver A SIngle Message Through the Campaign
You must deliver a single message to various platforms using the content that fits the selected platform. By delivering consistent messages throughout the campaign, followers are more likely to accept the message if they encounter the same information over and over again. Repetition eventually creates a degree of intimacy and builds trust in messages, brands, and products.
Balance Promotional and Non-Promotional Content
Followers do not prefer to be constantly exposed to advertising messages. By balancing promotional and non-promotional content, followers need to think that the content is useful and they are having a deeper relationship. In order for followers to become customers, it is important not to make them feel pressured or forced, so the company must deliver helpful and attractive content to followers.
7) Setting Unique Hashtags for Campaigns
All major social media campaigns have identical hashtags used on social platforms. Hashtags track interactions and make it easier for followers to participate in campaigns. Hashtags should be unique and memorable. For example, Snickers, which is well-known for chocolate bars, is famous for holding a social media campaign called 'You're Not You When You're Hungry'. This hashtag depicts people getting angry and losing their minds, in the end turning into other people because they're hungry. However when people take a bite of the Snickers bar, they become satisfied and come back to normal. The hashtag of this campaign is #EatSnickers.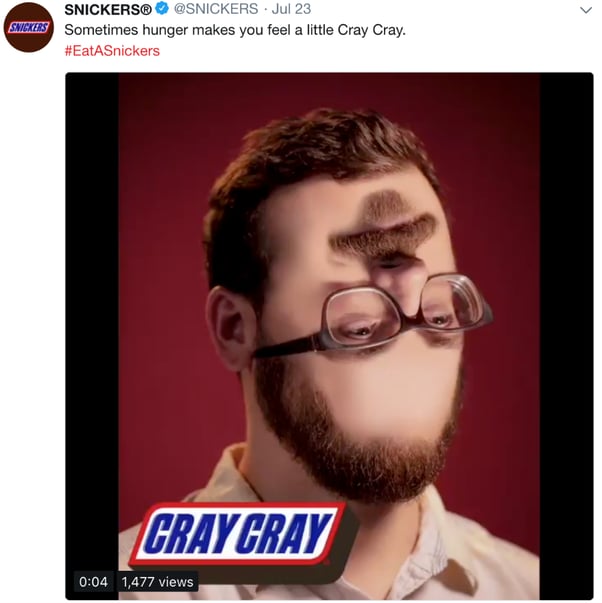 Snickers Campaign(Image by Hubspot)
8) Content Automation Using Scheduling Software
Scheduling campaign posts saves time and effort by eliminating the need to upload them in real time. Tools such as Hootsuite, Crowdfire, and Coschedule allow marketers to schedule posts with text, photos, videos, hashtags, and more. Some of these include analysis functions that help users check their schedules and decide which posts to modify.
9) Utilizing Live Streaming
Live streaming allows you to view content anywhere in real time, providing a unique experience.Facebook Live is one of the most popular ways to stream live content, and other platforms such as Twitter, Instagram, and YouTube are also frequently used. Whichever method you use to promote your content, you must analyze the results. By analyzing the results, you will be able to find what needs to be corrected and prepare for future campaigns.
Social media has hit the world. Therefore, social media marketing campaigns are essential for businesses that want to maintain customer relationships and to effectively promote the content. It is an attractive method to achieve high goals, have direct communication with followers & customers, and share contents easily. Now, why don't we launch a social media marketing campaign that drives purchases through unique and attractive content and raises brand awareness?
To Learn More about <Social Media Marketing>
To Learn More about <Content Marketing>
For professional help, Get Free Hubspot Counseling!