Contents
What is Digital Marketing?
Types of Digital Marketing
What Does a Digital Marketer Do
Inbound and Digital Marketing
Can Digital Marketing Be Applied to All Businesses
The Role of Digital Marketing in Enterprises
Which Type of Digital Content Should Be Made?
How Long Does It Take to Verify the Content Performance?
Budgeting for Digital Marketing
Mobile and Digital Marketing
According to a study, adult Internet use has increased by 5 percent over the past 3 years. Consumption methods over people have also changed as more and more people use the Internet everyday. This means that offline marketing has not been as effective as it used to be. Marketing needs to be connected to potential customers in a timely and appropriate place. Therefore today, effective results can only be achieved if marking activities take place online, where people spend most of their time.
Hubspot introduces 'Inbound Marketing' as the most effective marketing method to attract customers' attention, have customer contact, and to gain customer satisfaction.
But before that, let's take a closer look at the digital marketing that many people are curious about.
1. What is Digital Marketing
Digital marketing is a concept that encompasses all marketing activities using electronic devices or the internet. Enterprises use digital channels such as search engines, social media, e-mail, and websites to contact potential customers.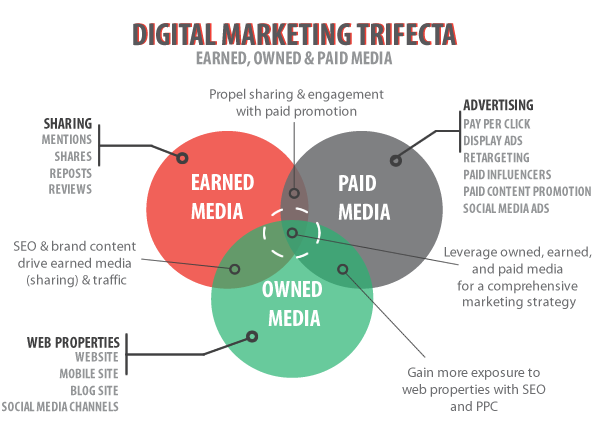 Digital Marketing Trifecta (Image by Titan-SEO)
If traditional marketing means physical marketing through print advertising or communication over the phone, digital marketing means online marketing. It leads to endless marketing opportunities using email, videos, social media, websites, and more. Digital marketing is especially important for business and brand awareness, so recently almost all brands have been running websites leveraging social media or digital advertising strategies. This allows customers to get information as well. Eventually, digital marketing has become a must for more competitiveness. For effective marketing, you need to know that work could be done in a variety of ways or strategies and the marketing tactics have to be laid out that fit your budget. It is also important to monitor success or failure and return on investment (ROI) of advertising campaigns using analytic dashboards.
2. Types of Digital Marketing
1) Search Engine Optimization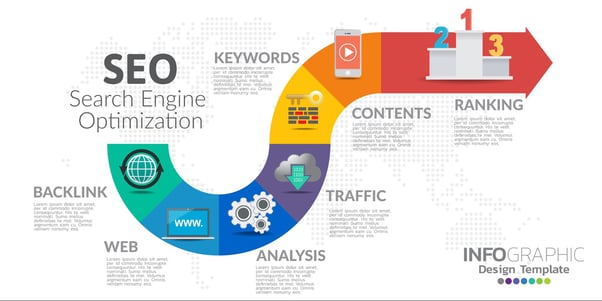 Search Engine Optimization
Search Engine Optimization (SEO) is a method of increasing the amount of traffic flowing into a website by placing the site at the top of the search engine results page. Channels that perform search engine optimization include blogs and infographics as well as websites. There are several ways to perform these search engine optimizations:
ON Page SEO : It means the components in the page that affect Google search. These are titles, content, page structures, and so on. Optimizing these components in the page can be placed at the top of Google search engine results.
OFF Page SEO : It focuses on the outside of the page when optimizing. The user's browsing history or the accuracy of links also affects the ranking of Google search results.
Technical SEO : It is a type of SEO that focuses on the backend of the website and how the page is coded. It is an important factor in Google's search engine rankings.It could speed up the web loading speed through image compression, structured data, and optimization of CSS files.


2) Content Marketing
Content Marketing Strategy (Image by Neil Patel)
Content Marketing creates and promotes content for the purposes of brand awareness, traffic growth, lead nurturing, and customer acquisition. The following channels are utilized in content marketing strategies:
Blog Posts: Writing and publishing articles on a company's blog can help prove its expertise and increase traffic. It's an opportunity to turn blog visitors into potential customers.
E-books and White Papers: Long-form content like e-books and white papers provides content for website visitors to learn. It also gives you the opportunity to find out your contact information and switch to a potential customer.
Infographic: Infographic provides visual content for website visitors to shape the concept, and it is easy to attract readers' attention with visual materials.
3) Social Media Marketing
M Social Inbox (Image by HubSpot)
Social media marketing is used to promote brands and content to increase brand awareness, traffic and discover potential customers. If you're using multiple social media platforms, you can use tools like HubSpot CRM to connect channels like LinkedIn or Facebook in one place. This allows you to easily schedule content to be uploaded to multiple channels and analyze the results. In addition to connecting social media platforms for content publishing, you can also consolidate and view each social media inbox in one place.
4) PPC
Pay Per Click(PPC) is a method of attracting traffic to a company's website by paying for advertising every time it gets clicked on an ad. The most representative PPC is Google Ads. That's how Google's search engine results page will have a website link at the top of the page and advertising costs are incurred everytime you click on it. Other typical channels that can run PPC include:
Instagram, Facebook's Paid Advertisement: When an advertiser pays to post videos, images, and slides as ads, Instagram and Facebook post the feed to the users who match the audience of the business.
Twitter Advertising Campaign: When advertisers pay to upload a post or profile to a news feed for a particular audience, they can campaign for goals such as website traffic, more Twitter followers, participation, and so on.
5) Affiliate Marketing
Affiliate Marketing - Coupang Partners (Image by Coupang)
Affiliate Marketing refers to advertising techniques in which advertisers who sell products or services execute ads through publishers. If a consumer makes a purchase through the publisher's promotion, the publisher will receive a fee. In particular, affiliate marketing is an active marketing activity these days, and it refers to the form in which influencers on social media such as blogs and Youtube promote advertiser's products and are compensated when they generate profits.
6) Native Advertising
The word 'native' in Native Advertising means 'natural'. In other words, native advertisements are ads that are naturally located between posts, to lower the antipathy of users and attract attention. It can normally be found on Buzzfeed or Instagram.
7) Marketing Automation
Introduction to Marketing Automation Software (Image by Pat Research)
Marketing Automation refers to software that is utilized to automate marketing tasks that are essentially performed. Marketing departments can automate repetitive tasks that they have done manually, such as:
Email Newsletters: In addition to automatically sending emails to subscribers, email automation can only be passed to those who want to receive an email by shrinking or expanding their contact list as needed.
Social Media Publishing Schedule: To increase the company's presence on social media platforms, posts should be uploaded constantly. Therefore, posting manually is inefficient. Automating these publishing schedules will allow you to spend more time on content strategy and production.
Lead Nurturing: Lead nurturing and changing those possible clients into customers can be a long process. Specific emails or content can be sent to people who meet certain criteria, such as the person who downloaded the e-books.
Campaign Track & Report: Marketing campaigns include numerous people, emails, content, contacts, and more. Marketing automation can track the performance of all of these campaigns by identifying all of the components for each campaign they offer.


8) Email Marketing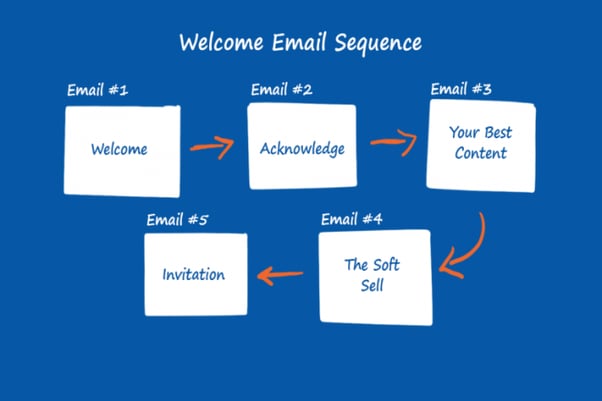 Email Sequence (Image by Mirasee)
The company uses email marketing as a way to communicate with customers. E-mail promotes content and discount events. In this way, it encourages people to visit websites. These are the following types of email marketing campaigns:
Blog Subscription Newsletter
Sending Follow-up Emails to Visitors Who Have Downloaded the Specific Content
Customer Welcome Email
Promotional Event for Loyalty Program Members.


9) Online PR
Online PR is to promote online through digital publications, blogs, and websites. It is similar to traditional PR, but there is a clear difference in that it is an online promotion. The following channels conduct online PR:
Participating in Online Reviews: Providing feedback on online reviews can maintain the company's reputation and deliver a strong message.
Leaving Comments on a personal website or a blog: Commenting on someone who has read the company's content is an opportunity to have a productive conversation.


10) Inbound Marketing
Inbound marketing is a marketing method that creates customer interest and offers multiple benefits at the customer's purchasing stage. You can communicate with customers and engage in marketing activities through inbound marketing.
The following are examples of inbound and traditional marketing.
Blogging vs Pop-up Advertising
Video Marketing vs Commercial Marketing
Email Contact List vs Spam Mail


11) Sponsored Content
Sponsored Content is a marketing method that involves supporting other popular sponsors or influences to produce content that promotes a brand or a product to upload posts or videos related to the company on social media. Other forms of sponsored content are blog posts or articles written to highlight specific topics, services, and brands.
3. What does a Digital Marketer Do

Digital Marketing KPIs (Image by Step Change)
Digital marketers utilize a variety of digital channels to increase brand awareness and to create potential customers. Mainstream channels include social media, corporate websites, search engines, email, display advertising, and corporate blogs. Digital marketers typically use different Key Performance Indicators (KPIs) to measure performance across channels. For example, a digital marketer's KPI responsible for SEO is the traffic flowing into the website through Google Search. Digital Marketing is done for many marketing activities nowadays. Small businesses run marketing activities simultaneously with a single generalist running various digital channels, while large companies have multiple professionals focusing on each digital channel. The types of digital marketers are:
1) SEO Administrator
Key KPIs: Organic Traffic
The SEO administrator works so that the company's website or content is located at the top of Google Search. In order to optimize the search engine, they communicate with content creators and strive to optimize the search engine not only for google but also for content posted on various social media channels.
2) Content Marketer
Key KPIs: Time Spent on the Page, Overall Blog Traffic, YouTube Channel Subscribers
As a digital content creator, a content marketer produces content by referring to the company's posting schedule. They work with other departments to promote their products and create content to make the company's planned campaigns known throughout various marketing channels.
3) Social Media Manager
Key KPIs: Number of Followers, Exposures, and Shares.
The role of social media manager depends on what industry the company belongs to. Managers typically schedule corporate content publishing on social media. Then, they discuss and decide with content marketers what content and which social networks to post.
4) Marketing Automation Coordinator
Key KPIs: Email Opening Rate, Click Rate, and Prospect Conversion Rate
The Marketing Automation Coordinator selects and manages software that allows the entire marketing department to understand customer behavior and measure the growth of the business. Many of the aforementioned marketing activities can be operated separately, so they also conduct the work of integrating individual marketing activities and tracking performance.
4. Inbound & Digital Marketing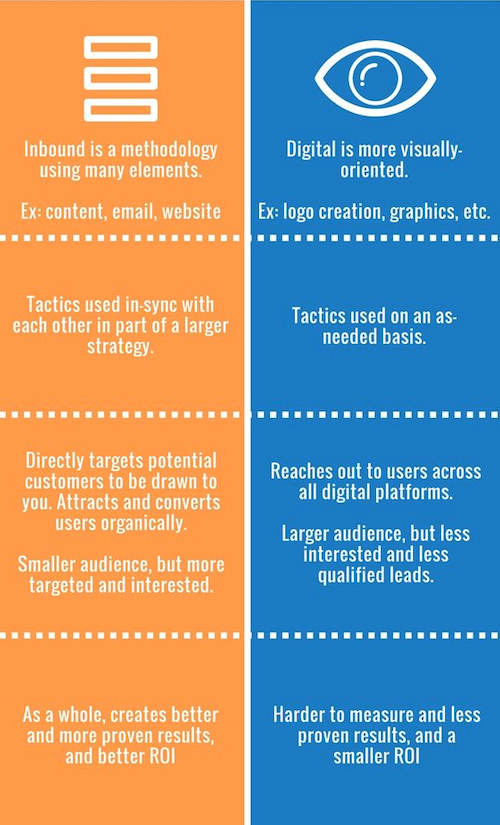 Inbound Marketing vs Digital Marketing (Image by InVerve Marketing)
Inbound marketing and digital marketing seem similar on the surface because marketing activities take place online and create digital content. So what's the difference? Digital marketing does not distinguish between a push and a pull strategy, which is divided into inbound and outbound marketing. The two strategies just exist within the framework of digital marketing. Digital outbound strategies deliver marketing messages to as many people as possible, whether relevant or not, in the online space. For example, banner ads located at the top of many websites are visible to everyone regardless of the individual interest of many people accessing the internet. Digital inbound strategies, on the other hand, is to lure target customers to their websites by using online content to provide helpful information. One of the simplest and most powerful digital inbound marketing assets is blogging. Through blogs, content is provided using terms that customers search for, then users are flowed into the website. In the end, if inbound marketing is a methodology that uses digital marketing assets to generate interest, engage, and satisfy customers online, digital marketing is a concept that encompasses all kinds of online marketing tactics, not being sorted into inbound or outbound.
5. Can Digital Marketing Be Applied to All Businesses
Digital marketing, regardless of the products sold by the company, can be used for businesses in any industry as digital marketing establishes buyer personas and creates valuable online content to define the needs of targeted customers. However, not all businesses perform digital marketing in the same way, and the company's way of doing B2B and B2C.
B2B Digital marketing: If you are a B2B company, digital marketing will be focused on creating online prospects. Connectivity between prospects and sales staff is the ultimate goal. For this reason, the role of the marketing strategy is to connect potential customers from the company's website or digital channels to sales staff. Using business-focused channels such as LinkedIn as well as websites is part of B2B digital marketing.
B2C Digital Marketing: If you are a company that carries out B2C to sell products retail, the goal of digital marketing is to attract people to the website and turn them into customers. Therefore, rather than focusing on potential customers in B2C digital marketing, the company focuses on accelerating the process for website visitors to purchase. B2C digital marketing requires a stronger CTA(Calls-to-action) than B2B businesses. In the case of the B2C industry, channels like Instagram are more suitable than platforms like LinkedIn that focus on business.


6. The Role of Digital Marketing in Enterprises
Unlike offline marketing activities, digital marketing enables real-time observation of the results of marketing activities. Advertising in newspapers is difficult to measure how many people have seen the advertisement. It is also hard to see how that ad affected sales. Digital marketing, on the other hand, has the advantage of being able to see the ROI(Return on Investment) of marketing activities in real time.
1) Website Traffic
Using a marketing platform like Hubspot as part of digital marketing, you can find the exact number of people who have accessed the website's homepage in real time. You can also learn more about the pages people visited, what devices they used, and how they accessed the pages. This allows you to prioritize which marketing channels to focus on. For instance, if you find out that 10% of the traffic has been introduced through organic search, then you can determine that SEO is necessary to increase this rate.
While offline marketing is difficult to understand the process until you meet salespeople to buy things, digital marketing can identify trends and patterns in consumers' behavior before purchasing. So it finds ways to lure people further to the website.
2) Creating content and Lead Nurturing
Creating a product brochure and putting it in your mailbox is a form of marketing content that is done offline. The problem with this method is that you can't get information about how many people checked the brochure or threw it away without checking it. But if you upload a brochure on a website, you can see how many people have checked the page and it could gather other information. Potential customers are created not only when people access the content, but also when they download the content.
3) Attribution Modeling
Combining effective digital marketing strategies, tools, and technologies can track customers' first digital contact with their business. This is called attribute modeling, which allows you to make clear marketing decisions because you can track patterns about how people search and buy products. According to the Aberdeen Group, the link between marketing and sales is crucial, and a strong combination of marketing and sales can achieve an annual growth rate of 20%. So if you can leverage digital technology to improve your customer's buying journey, it will have a positive impact on your business's bottom line
7. Which Type of Digital Content Should Be Made
The type of content that needs to be created depends on the buyer's journey stage. First, you need to create a buyer persona to understand the goals and challenges of potential customers related to your business. Then you have to consider what content you need to deliver, referring to what phase you are in the buyer's journey. This is called content mapping. The goal of content mapping is to target content according to the characteristics of the person who wants to buy products and the corresponding steps during the purchase journey.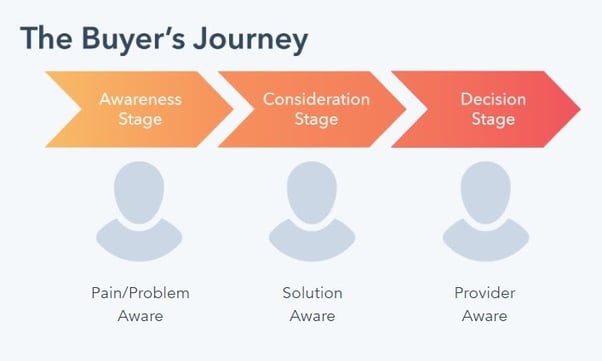 Buyer's Journey(Image by Hubspot)
The following options can be recommended using the consumer's buying journey steps:
1) Awareness Stage
Blog Posts: It can increase organic traffic with powerful SEOs and keyword strategies.
Infographics: When sharing content, it is more likely to draw attention from social media.
Short Videos: You can find new customers by posting videos on platforms like YouTube.


2) Consideration Stage
E-book: it typically provides more specific information than blog posts or infographics, making it ideal for lead nurturing.
Research Report: Research reports are valuable content in creating potential customers. Research reports or new data are frequently collected by the media or the press and can be used in the recognition phase.
Webinars: Webinar is an effective content format for consideration as it provides more content than blog posts or short videos with detailed video content.


3) Decision Stage
Case Study: Posting a detailed case study on the website can have a positive impact on the behavior of people who want to make a purchasing decision.
Blurb: For businesses where case studies are not appropriate, posting a short recommendation on the website is also a good alternative. For clothing brands, posting styling photos of people using their clothing can also be an example of a blurb.


8. How Long Does It Take To Verify the Content Performance?
Digital marketing is easier to measure ROI than offline marketing, enabling faster marketing results. However, it ultimately depends on the scale and effectiveness of your digital marketing strategy. If you decide on the buyer persona to identify the needs of the audience and spend time creating quality content, you will be able to get positive results within six months. If paid advertising is part of a digital strategy, the results can be much faster.
9. Budgeting for Digital Marketing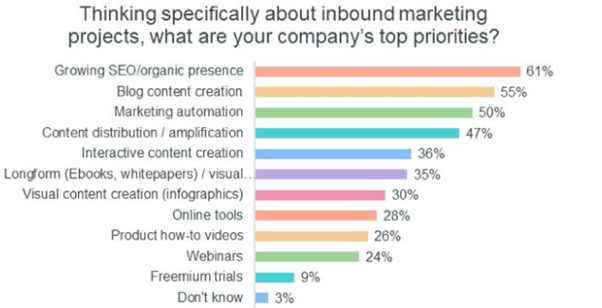 Inbound marketing budget plans (Image by HubSpot)
Digital marketing budgets vary depending on the strategy. If you choose to focus on inbound marketing on existing websites using SEO, social media, and content creation, you can do it with a small budget. In particular, the point of inbound marketing is to create content that can help the audience, which requires more time than the budget. You can start using Hubspot's CMS on the website. If your budget is low, then you can create content using WordPress hosted by the WP engine, or using simple tools from Studio Press and the Elementor website builder for WordPress. However, outbound technologies such as online advertising and purchasing email lists require some budget. For example, to run an announcement using Google AdWords, you need to pay quite a lot of money to be at the top of your Google search results.
10. Mobile & Digital Marketing
One of the key components of digital marketing is mobile marketing. In fact, smartphone usage accounts for over 69% of Americans' digital media consumption, while desktop-based media consumption is less than half. You can also find that the size of the domestic digital advertising market is larger than that of the mobile advertising market. In other words, optimizing digital assets such as digital advertising, web pages, social media images, and mobile devices is essential to performing effective digital marketing. Providing mobile apps to purchase items can also be part of digital marketing. The important thing is that when users go online using mobile devices, you need to provide the same positive experience as when they use desktops. You should be able to provide an online experience that's easy for device users to use, reduce the length of lead nurturing form to avoid the hassle of users downloading content on the go, and design it with mobile users in mind when attaching images. If you are able to optimize digital marketing assets while keeping users in mind, you will finally get the marketing results you want.
It is now an environment where people buy things online and access content rather than offline. If you get to start digital marketing, it is essential to do so because you are more likely to reach the audience you want online and you can effectively get the performance you want.
Related Articles